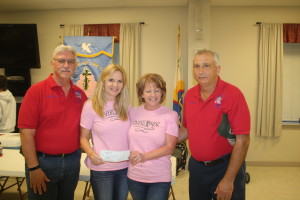 Recently Knights donated funds to Compassion That Compels which was used to purchase Compassion Bags.
Compassion Bags started with a letter and a sweater as her two sisters-in-law and sister battled cancer. Since July 2013, Compassion That Compels has reached over 2,000 BEAUTIFUL women battling cancer in 31 states.
Compassion Bags gift a quiet peace to a noisy reality. In a world turned upside down from cancer, the Scripture attached to each useful item in the bag reminds a cancer overcomer that she is first an overcomer in Christ!
Kristianne has provided women in our parish with Compassion Bags. It's your generosity that helps us show and sow God's love and compassion to these brave and BEAUTIFUL women.
Please visit her website and donate at www.compassionthatcompels.org, Find out how you can bring Compassion That Compels and Kristianne to your next event.
"At Compassion That Compels, we pray anytime and everywhere for our BEAUTIFUL overcomers and their families. We love hearing from you all, so please email your prayer requests, updates and photos to:praying@compassionthatcompels.org"