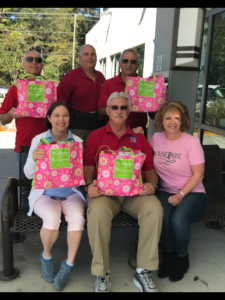 On October 24 several Knights experienced firsthand what it's like working with a living angel, Kristianne Stewart, the Organization's founder. Kristianne is touching so many lives helping woman battling cancer.
Compassion Bags reminds a cancer overcomer that she is first an overcomer in Christ! Let's all pray that the World displays kindness, caring and compassion for each other.
Allow us to be as compassionate as the air we breathe. Give us the strength to help our brother, especially if he falls by the wayside. Allow us to be a blessing to others as we travel through life's journey. Aid us in leaving an impact on the people that surrounds us. Change our hearts today, Oh Father, let hatred vanish in Your Holy presence. We declare and decree that we will follow the example Jesus has set before us, in his Mighty name we pray! Amen and Amen!